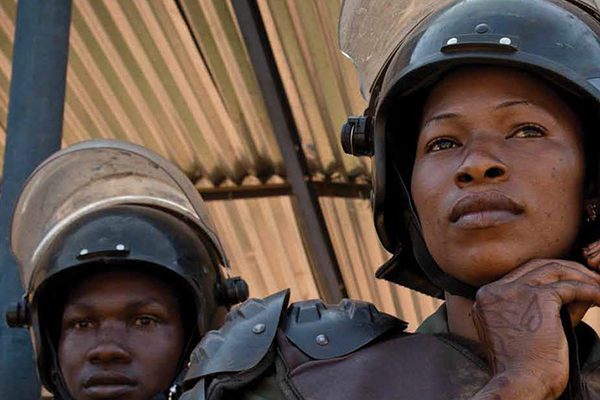 UN Photo - MINUSMA/Marco Dormino
Project Status:

Ongoing
---
The UN has evolved a theory of change that links rule of law and respect for human rights to conflict prevention and the sustaining peace agenda. Building effective, transparent, inclusive and responsive rule of law institutions – principally, police, justice, and corrections – is considered crucial for immediate protection in fragile contexts, prevention of escalation of political and other disputes into widespread violent conflict, greater societal resilience, more inclusive governance, and a stronger social contract. The UN's rule of law work is thus inextricably linked to the Organization's peace and security agenda and the Sustainable Development Goals, particularly Goal 16.
Across its pillars, the UN has increasingly prioritized the rule of law. Today, the UN has a broad array of mandates across different peace operations, agencies, funds and programmes to provide rule of law assistance, often with many initiatives taking place simultaneously in the same settings. In 2013, to build a more coherent, cross-pillar approach to rule of law in crisis and conflict-affected situations, the Global Focal Point for the Rule of Law (GFP) arrangement was established. Co-led by UNDP and DPO, this platform facilitates coherent, coordinated approaches across the UN in the hopes of achieving greater impact in crisis and conflict settings.
The project is guided by the overarching question: How is the UN's rule of law work contributing to the prevention and sustaining peace objectives of the UN? The project thus aims to identify evidence of impact across different UN rule of law interventions, examining what Security Council mandates, approaches, factors, partnerships and resources contributed to a reduction of the risk of large-scale crises in a range of settings. On the basis of this analysis, conclusions and recommendations will be drawn about the effectiveness of certain approaches, common factors that may enable or inhibit impact, and what kind of resources tend to positively position the UN in particular settings. It will also aim to identify potential "blind spots," important areas where the rule of law work would have an impact if greater focus was directed there.
The project will examine case studies from the Central African Republic, the Democratic Republic of the Congo, Mali, Colombia, Lebanon, Bangladesh, Bosnia and Herzegovina, and Afghanistan. Drawing from the case studies, UNU-CPR will produce a framework paper offering policy considerations, common lessons from different field settings, and recommendations for the Secretariat, GFP partners, and Member States. The key purpose of this paper will be to demonstrate the impact and effectiveness of particular approaches, mission mandates and identifying the factors that contributed to success. It will also include an overview of existing monitoring and evaluation tools for evaluating impact and highlight gaps which the UN needs to address which can be used to assess future rule of law programming.