2021•07•30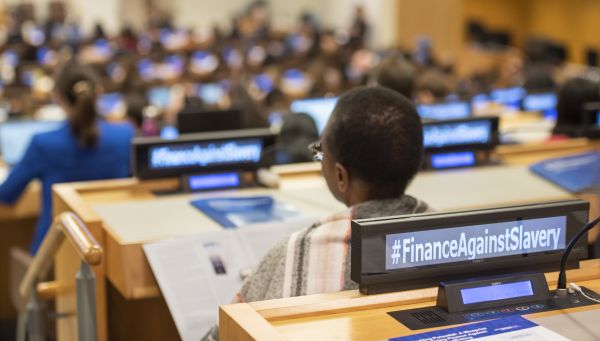 Daniel Thelesklaf, Project Director of the Finance Against Slavery and Trafficking (FAST) initiative at United Nations University Centre for Policy Research and Scott Liles, President and Managing Director of ACAMS outline the impact of COVID-19 on modern slavery and human trafficking and the role of the financial sector in combating these crimes.
---
Today, on the World Day Against Trafficking in Persons, the global call to action on modern slavery has never been greater given the increases in trafficking as a result of the COVID-19 pandemic. Although human trafficking for exploitation can be traced through the centuries, the severity of its modern day iteration remains little understood, in part because this exploitation so often takes place in the shadows of our global economy. That is why the financial sector has such an important role to play in combating these crimes.
Even before the pandemic, estimates from 2016 found that 40.3 million people a year —or one out of every 185 individuals alive today—are victims of modern slavery. Disturbingly, one in four is trafficked as a child and a report from the ILO and UNICEF found that child labour had risen to 160 million at the beginning of 2020, reflecting an increase of 8 million children since 2016.
As alarming as those statistics are, all signs point to the fact that the numbers have only worsened over the past 18 months. The unprecedented global economic and labour market crisis triggered by the pandemic both highlighted and exacerbated the systemic social and economic inequalities that have allowed modern slavery to endure. A report published in June by the United Nations Office on Drugs and Crime (UNODC) found that not only has the pandemic significantly exacerbated the inequalities that are "among the root causes" of human trafficking, but it has also hindered the ability of frontline organizations to offer protection and reintegration services to victims. The most vulnerable—women, children and immigrants—are faced with fewer options for employment or shelter, and are thus more likely to be entrapped by traffickers seeking to financially control them.
Poverty and unemployment has indeed left millions of people across the world more vulnerable to these forms of exploitation. 255 million full-time jobs were lost in 2020, while 1.6 billion workers in the informal sector were left without work and frequently without access to social or economic protections. A recent study found that extreme poverty could rise to over 1 billion people globally as a result of the crisis.
On an economic level alone, modern slavery including forced labour means that some businesses compete on an uneven playing field. The financial sector, therefore, has an important part to play in supporting good-faith business actors. All eyes are on social risks in environmental, social and governance (ESG) criteria by investors, and ESG investing continues to grow with sustainable finance strategies that incorporate labour exploitation risks. In addition, asset managers are beginning to come together to work in collaboration with businesses to rid value chains of modern slavery.
The sector also has a crucial role in detecting and disrupting illicit financial flows, estimated to be $150 billion a year in profits for traffickers. A year ago, the Finance Against Slavery and Trafficking (FAST) initiative and ACAMS teamed up to provide training to anti-financial crime professionals. The project was built in part on the FAST Initiative's 2019 Blueprint for Mobilizing Finance Against Slavery and Trafficking, which outlined how financial sector institutions and stakeholders can partner to more effectively combat human trafficking. The joint training initiative has already elicited considerable interest from within the global compliance community and beyond. Nearly 10,000 professionals have enrolled to obtain their Fighting Modern Slavery and Human Trafficking certificate — a first-of-its-kind certification that draws on the input of subject-matter experts including survivors to establish compliance best practices for identifying the financial networks that make trafficking a profitable business.
Importantly, the collaboration has also been a means to foster greater cross-sector collaboration, crucially with the support of survivors — an outcome that we hope to build on as the Biden administration advances its June proposal to tackle human trafficking. Calls by the Financial Action Task Force and national supervisors in 2020 for institutions to take heed of the rising risks of trafficking posed by the pandemic likewise signal that governments are willing to work more directly with the private sector to dismantle criminal syndicates.
While no one group can end modern slavery and human trafficking on their own, it is essential that we collaborate to find solutions that are effective and survivor-informed, especially those that support those groups most vulnerable to exploitation. The financial sector's international reach will be key in doing so.
The COVID-19 crisis has exposed the fragilities in global value chains and its tangible, human costs. The pandemic has also given us all an opportunity to identify and implement strategies to create more resilient systems for the future. Now is a crucial time to lay the foundations of a more global inclusive economy to meet our shared objectives of the 2030 Agenda on Sustainable Development.