2016•03•03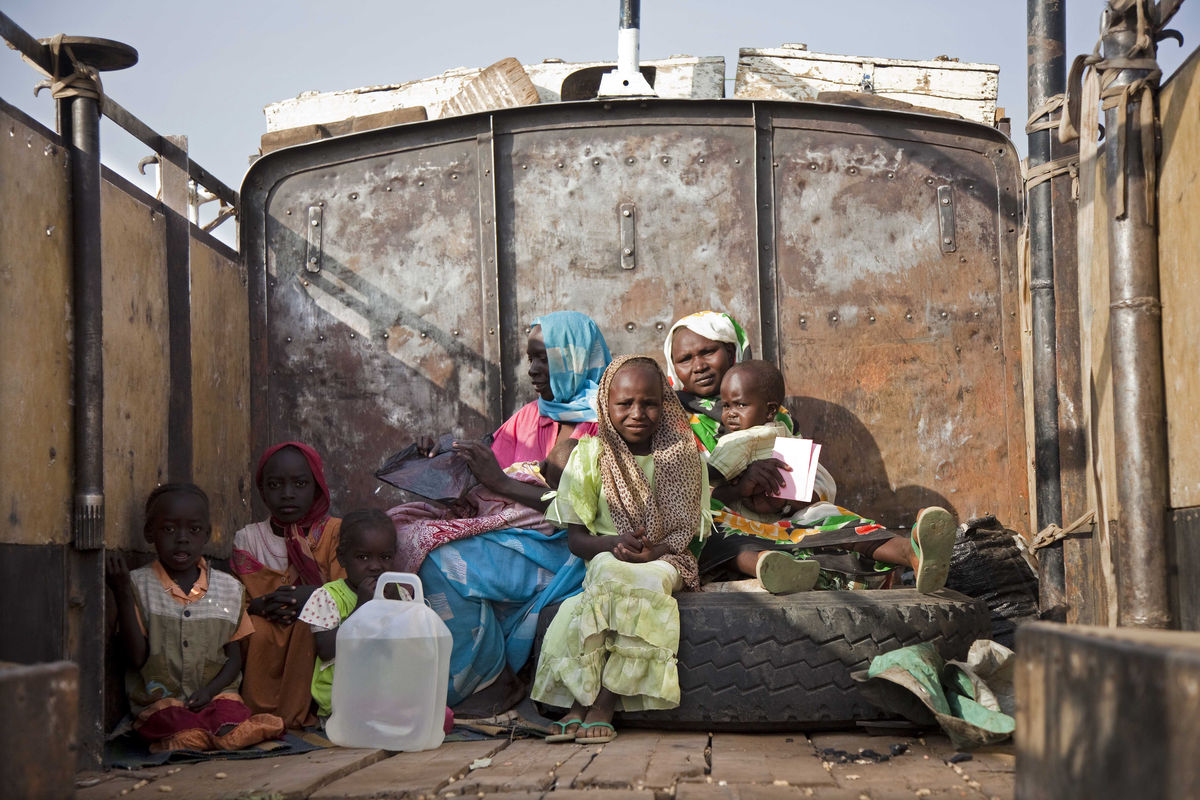 Albert Gonzalez Farran/UNAMID
Rahul Chandran considers the challenges facing the World Humanitarian Summit process and of rapidly respond to new crises, while continue to service situations of chronic need. It is based on a paper presented at the World Humanitarian Summit.
---
About a month ago, I was asked to present thoughts on the World Humanitarian Summit (WHS) process to the European Parliament. The paper is here. And if you are bored of US election coverage, the video is here. But first a little background.
I have been both a supporter and concerned observer of the WHS for a long time. A supporter because the global humanitarian system is cracking under a fundamental flaw: it cannot both rapidly respond to new crises, and continue to service situations of chronic need. It needs new ideas, and changes to its fundamental processes – like appeals. Newer stressors – like the risk of a global pandemic, which worries a few people, including Bill Gates – also demand systemic reform.
The release of the UN Secretary-General's report One Humanity: Shared Responsibility, and the fact that there are a mere 80 days until the Summit means that it might be too late for envoys and a UN-led political process. The report does not suggest the presence of a substantial political coalition for change. External feedback on the report has not been positive. Yet I see One Humanity as a document that is both aspirational, and quite strikingly for an SG report, inspirational, and remain congenitally optimistic. –ish.
As Mukesh Kapila captures neatly, the Secretary-General "can't do more than say to the world: 'Look, here's the nature of the problem. Here's the nature of the gaps. If you're really interested in solving these kinds of problems, these are things that need to happen'." The paper for the EU Parliament argues that the SG's report does what SG reports can, which is pressure UN Member States to live up to their promises. It is the Member States' political failure that has allowed 1.5% of the Syrian population to be killed and 45% to be forced to flee their homes.1
And for the WHS as well, now is the moment for Member States to step up. The EU paper argues that if Member States take it seriously, the WHS could be the beginning of what it calls in formal language "the imperative process of describing humanitarian systems in terms of their functions, and developing forms that deliver those functions" by presenting commitments that talk about outcomes, what needs to be achieved, how it can be done, and by whom. The question of whom is essential because without accountability, there will be no change, which is where we are today.
The paper also sounds cautious notes. It recognizes that fixing these issues is a wicked problem. It focuses on the gap between the form of the global humanitarian system and its varied functions, calling a "central unresolved tension of the entire WHS process" the fact that international assistance must deliver solutions that require a variety of different outcomes:
Crisis response: Rapid interventions to help meet short-term needs arising from a sudden-onset crisis – most often in response to natural or man-made disasters;
Long-term support: Ongoing support to a situation with longer-term needs – such as protracted conflicts, or situations of chronic vulnerability;
Resilience-building / risk reduction: Helping communities, cities, and countries to build back better after crises and/or reduce the effects of future crises.
The paper then argues that the current system, in trying to deliver all of these outcomes, in a variety of contexts (drawing on the brilliant Ramalingam/Mitchell model – full paper here; concise blog here) has no form.
The paper then proposes sample commitments, drawing on our earlier work with Claire Hajaj, some brilliant thinking on dull disasters by Stefan Dercon and Daniel Clarke, the Charter for Change, and UNU-CPR's Fragile Cities group. Two of the examples are:
Proposed EU Commitment on Funding Sudden-onset Crises at the National and City Level
Outcome: 5 of the top 20 countries and cities at risk for sudden-onset crises in Lower and Middle-Income Countries have a plan for insurance in place by 2020.
What: Creates a sustainable financing model for countries and cities to manage risk.
How: The EU, together with the United Nations, World Bank and Regional Development Banks, works with governments, municipalities, and the private sector to explore:
(a) What information would be required to identify and categorize risks in sufficient depth such that they are insurable in volunteer countries and cities.
(b) What financial mechanisms and instruments could be used (1) to support the extension of insurance to countries and cities under consideration; (2) to strengthen the incentives for disaster risk reduction efforts; (3) to leverage financing for such efforts. In 2020, the EU and partners will host major lessons learned exercise to understand outcomes and potential for extending the insurance system, if any.
Whom: The EU agrees to fully fund this scheme and appoint an EU envoy on WHS implementation who is to provide regular reporting to EUP.
Proposed EU Commitment to More Integrated Planning
Outcome: After 12 months of assistance, all emergency responses operate with multi-year "Crisis and Resilience Plans."2
What: Ensures that emergency assistance has a sunset clause, and that the "developmental" aspects of emergencies are considered up-front.
How: All humanitarian appeals are limited to one rapid response appeal with a duration of no more than 18 months. Within 12 months, a multi-year Crisis and Resilience Plan should identify programmes that are (1) reviewed for their scale after a year; (2) likely to continue for 2-3 years; (3) likely to span a 5-year or longer time-cycle, and transition/link to the ongoing development process within that time-frame. Plans should (1) be agreed by governments and agencies; (2) provide a single binding plan for donors and agencies alike; (3) focus on outcomes.
Whom: The EU will implement this system in three countries, based on agreement from the host nation. It will fund a fully independent lessons learned exercise at 18 months and 3 years, and present these lessons learned publicly. Based on these lessons, it may revise this commitment accordingly, but will move to full global implementation by 2020, at which point it will cease to fund situations where UN agencies, and other implementing partners that are not in compliance with this approach.
The point is not the content of these specific examples – which may well be flawed. The point is rather that serious commitments to change can still be made in Istanbul, and can have an impact.
The paper also proposes three ideas for Europe to secure WHS implementation – which might also be useful beyond Europe: (1) Continued high-level political attention – perhaps through the identification of an Envoy for WHS implementation, as mentioned above, with regular reporting requirements to parliament; (2) A substantive link to peer review processes that increases the pressure for compliance, ideally linked to a scorecard and a hard, independent ratings process of EU Member States' quality of implementation of EU-wide commitments; (3) A radical embrace of transparency. The opaque nature of decision-making on humanitarian actions is a particular driver of scepticism.
The most striking feature of engagement with the WHS process has been the clear inevitability of change. The humanitarian system, as it stands, will not continue to stand. Change is happening, and the system can catch up, or not.
Fewer people will die unnecessary deaths if humanitarian stakeholders can come together at the WHS and manage the transition to a different and deeper partnership. But to achieve this transition will require those who have the most vested interests in the current system to surrender, share power, and embrace change. And as a former OCHA colleague and humanitarian thinker worryingly noted: when did turkeys ever vote for Christmas?
---
[2] This example draws on ideas developed with Claire Hajaj, and first articulated in "Time for a Reset: Fixing the Faulty Humanitarian Appeals Process." Rahul Chandran and Claire Hajaj,
http://cpr.unu.edu/time-for-a-reset-fixing-the-faulty-humanitarian-appeals-process.html
. It is also consistent with the call in
One Humanity
under Collective Responsibility Four for "collective outcomes" and "multi-year plans in three to five year durations."