2015•12•08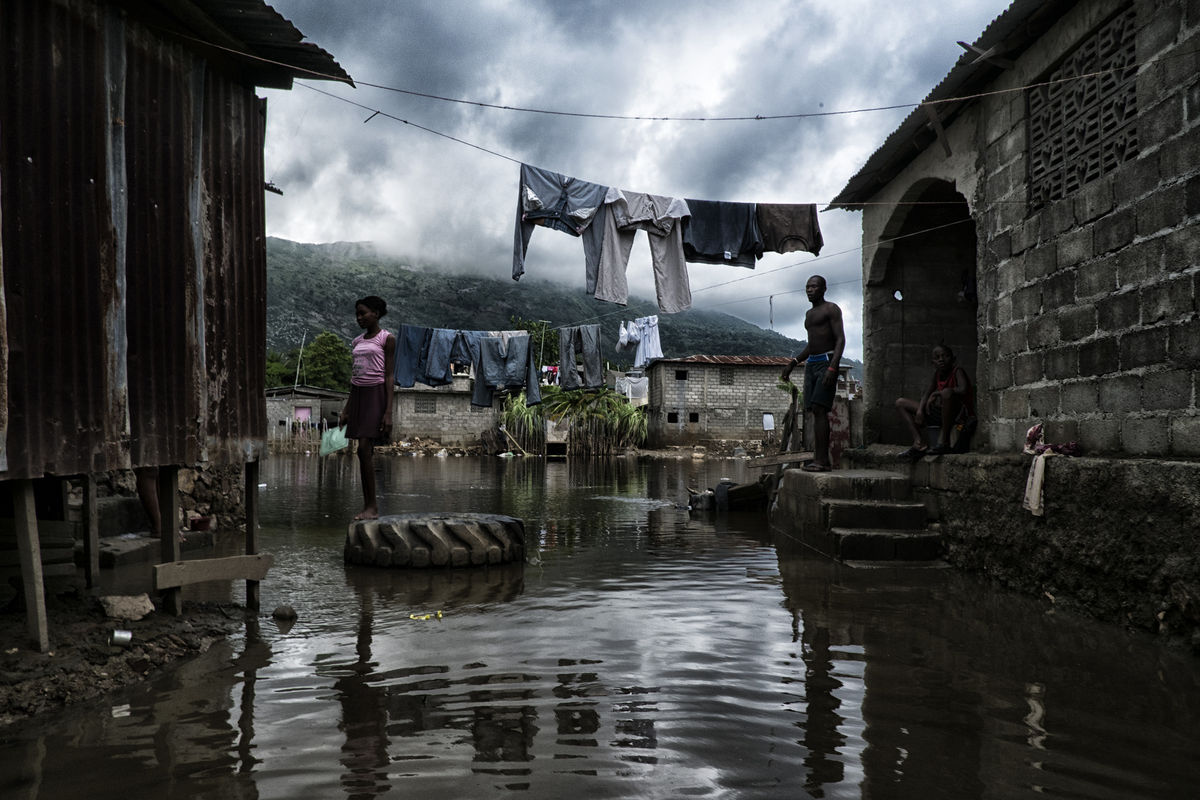 Photo by UN Photo/Logan Abassi
Alexandra Ivanovic and Louise Bosetti describe how cities in developing countries are the most exposed and vulnerable to climate change risks. They are therefore key actors that should be taken into account seriously as negotiations around how the UN Climate Change Conference unfolds, they write.
---
With the 2015 UN Climate Change Conference (COP21) currently taking place in Paris, much of the attention is focused on whether or not representatives from over 190 countries will reach an agreement on climate change and carbon emissions targets. The debate surrounding COP21 has thus far largely focused on national governments, with little attention paid to the role of local authorities in tackling climate change, or responding and adapting to its negative consequences. Meanwhile, cities in developing countries are the most exposed and vulnerable to climate change risks. Cities are therefore a key actor that should be taken into account seriously as negotiations around COP21 unfold.
Cities are at the forefront of climate change action
Currently, it is estimated that cities account for about 70 per cent of energy-related greenhouse gas (GHG) emissions and simultaneously face the greatest risks from the consequences of those emissions. With urban areas now hosting over 50 per cent of the world's population and an expected increase to almost 70 per cent by 2050, cities and their populations are most at risk to the impacts of climate change. In particular, cities in coastal areas are vulnerable to more frequent and intense cyclones and rising sea levels, while inland cities built along rivers are at greater risk of flooding. Urban centres in arid and semi-arid locations can also expect increased drought from forecast reduced rainfall and the accompanying threat of water scarcity from impacted groundwater. Predicted increases in temperature and associated heat stress will further affect urban residents, due to the urban heat island effect.
Yet, cities are also arguably better equipped than rural areas to respond to these threats and larger populations in urban centres may actually provide greater opportunities for adaptation. However, while thousands of cities have adopted climate change plans, there is currently very little coordination and assessment of their implementation. There is also strong regional disparity, with African cities accounting for only 1.3 per cent of these plans.
Understanding the impact of climate change on cities has led to the creation of a number of international networks of local and regional governments including the C40 Cities Climate Leadership Group (C40), United Cities and Local Governments and Local Governments for Sustainability. C40 in particular is a network of over 80 cities offering a forum where urban leaders can exchange information on ways to reduce their contributions to GHG emissions and adaptation strategies for climate change. In 2014, the UN Secretary-General appointed former mayor of New York Michael Bloomberg as his Special Envoy for Cities and Climate Change, who is currently leading the Compact of Mayors. Other campaigns, such as the Rockefeller Foundation's 100 Resilient Cities, work with developed and developing cities to build resilience to shocks and stresses, some of which can be exacerbated by climate change including floods, outbreaks of disease and food shortages.
Local and regional governments have also gained increased recognition at the COP sessions, such as in 2010, when the final text of the COP16 agreement formally recognized subnational and local governments as "governmental stakeholders." On 4 December, over a thousand mayors and local leaders converged in Paris where a specific Climate Summit for Local Leaders was held.
While these local networks have contributed to raising awareness of the role played by cities in climate change action, they tend to leave out of the climate equation the needs, specific challenges and roles of the most vulnerable cities in developing countries.
What role for the most vulnerable cities in developing countries?
While much of the debate surrounding COP21 has focused on the world's largest economies, many of which are developed countries, it is developing countries that are critical to the fight against climate change. In particular, cities in developing countries that face interlocking risks of climate change, disaster, and conflict are the most exposed and vulnerable to climate disruption.
More specifically, those most affected are the urban poor in developing countries where populations are growing the fastest. The WorldRiskReport 2014 estimated that a third of the urban population in developing countries lives in slums, where the risks associated with climate change are most concentrated. In such contexts, climate change may also aggravate socioeconomic stresses, exacerbating resource scarcities and forcing populations to migrate to urban centres, while posing additional challenges to already weak institutions. Some of these factors have been identified as potential drivers of violent escalation of conflicts. In Lagos for example, the question of in-migration from climate-affected rural areas of northern Nigeria is becoming more acute as public services are overwhelmed. The growth of poor and illegal settlements on highly flood-prone wetlands in Lagos is such that relocation will be required. This has exacerbated tensions between different groups now forced to cohabit in the city.
While these populations are the most vulnerable to climate change risks, they often lack a political voice to influence policy decisions. National and local authorities often place a low priority on poor and vulnerable populations, and instead tend to focus on large-scale commercial development, which further exacerbates their vulnerability. Cities, however, as the closest level of government to populations, have an important role to play in engaging with these voices and responding to these challenges. In creating an action plan to tackle climate change while supporting economic development, cities like Lagos must recognize the interlocking nature of multiple risks, assess drivers of vulnerability, and identify sources of resilience. Such endeavors should be supported by the international community to accelerate low-carbon development in cities and develop a new climate economy.
Moving forward on this agenda, and in light of the Secretary-General's new initiative to build climate resilience of the world's most vulnerable countries and people, priority should be given to climate change strategies that include cities in developing countries. This is not only of critical importance in the context of COP21, but also in the implementation of the Sustainable Development Goals (SDGs), in particular SDG 11, as their success lies to a great extent in cities.