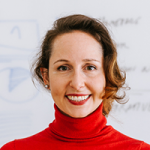 E-MAIL:

gaston@unu.edu
Research Interests
Conflict resolution
Human Rights
Humanitarian studies
Peace and security
Peacebuilding
Rule of Law
Education
Bachelor's degree in International Relations – Stanford University
Juris Doctor – Harvard Law School
Doctorate – University of Cambridge
Biographical Statement
Dr Erica Gaston is the Senior Policy Advisor and Head of the Conflict Prevention and Sustaining Peace Programme at United Nations University Centre for Policy Research. Prior to joining UNU-CPR, Dr Gaston worked for 15 years as a practitioner, lawyer and conflict analyst, focusing in particular on issues of conflict-related human rights and civilian protection, rule of law development and security sector reform, and proxy and sub-State conflict dynamics. She has significant field experience in Afghanistan, Iraq, Yemen, Syria, and Pakistan, among others.
Dr Gaston previously served as Project Manager with the Global Public Policy institute (GPPi) in Berlin, overseeing research projects including a multi-year project mapping and analysing the influence of armed groups in Iraq and Afghanistan on regional, national and community dynamics; work advancing the agenda of the 2016 World Humanitarian Summit; and a groundbreaking project exploring changing international norms of self-defence. Prior to that, she led the Rule of Law portfolios for the United States Institute of Peace's work in Afghanistan and Yemen, with a focus on conflict resolution, women's access to justice, security sector transition, and informal justice. She worked for a number of years with the Center for Civilians in Conflict and then the Open Society Foundations leading documentation and advocacy related to civilian protection and conflict-related human rights in Afghanistan and Pakistan.
Gaston has published and provided commentary widely, including on Lawfare.com, War on the Rocks, the Guardian, Foreign Policy, CNN, Al Jazeera, BBC and others. Her past academic articles in the Harvard International Law Journal and the Harvard National Security Law Journal have examined emerging definitions of soldier self-defence and accountability for private security companies. She has also edited three book compendiums focused on the changing norms and practices in 21st-century conflict.
Dr. Gaston holds a Bachelor's degree in international relations with a specialization in international security from Stanford University. She received her Juris Doctor from Harvard Law School and recently completed her Doctorate from the University of Cambridge. She has been a recipient of the German Chancellor Fellowship, the Gates Cambridge Scholarship, and served as a term member at the Council in Foreign Relations. She also serves as a Non-Resident Scholar at the Carnegie Endowment for International Peace.