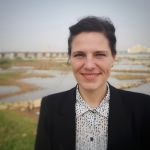 E-MAIL:

nickel@unu.edu
Research Interests
Global governance
International development
Natural Resources
Peace and security
Protection of civilians
Education
MSc International Development – Wageningen University, the Netherlands
MSW – Protestant University of Applied Sciences, Bochum, Germany
Biographical Statement
Catharina Nickel is a Programme Officer contributing to the work of the High-Level Advisory Board on Effective Multilateralism at the United Nations University Centre for Policy Research (UNU-CPR).
Before joining UNU CPR, Ms. Nickel served as a Protection of Civilians Officer in the UN Peacekeeping Mission in Mali. From 2018 to 2021, she worked as a Programme Manager at the UN Departments of Political and Peacebuilding Affairs and Peace Operations (UN DPPA-DPO) in New York and the UN Peacekeeping Mission in South Sudan.
Before working in the area of peace and security, Catharina Nickel worked at UNU's Institute for Environment and Human Security in Bonn, Germany, where she developed educational and research programmes on climate change adaptation and disaster response, vulnerability, and preparedness. She has conducted field research in East Africa, working on oil extraction, and completed a research stay at the Max-Planck Institute for Social Anthropology in Halle an der Saale, Germany.
Ms. Nickel holds graduate degrees in International Development Studies and Social Work. In addition to global assignments around resource extraction, peace and security, she has worked in Forensic Psychiatry and with juvenile offenders, and has several years of experience treating patients suffering from paranoid schizophrenia.