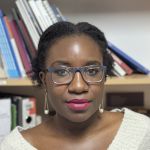 E-MAIL:

chido.mutangadura@unu.edu
Research Interests
Conflict Prevention
Conflict resolution
Global governance
Security Sector Reform
State fragility and post-conflict reconstruction
Education
Doctorate of Philosophy in Conflict Management - Nelson Mandela University
Master of Philosophy in Conflict Management and Transformation - Nelson Mandela University
Bachelor of Arts (Honours) in International Relations - University of Pretoria
Bachelor of Administration in International Relations - University of Pretoria
Biographical Statement
Dr Chido Mutangadura is a Senior Fellow (Non-Resident) on Governance of Peace and Security at United Nations University Centre for Policy Research. She provides support in its work on the UN's Our Common Agenda, specifically its role as Secretariat to the High-Level Advisory Board on Effective Multilateralism.
Dr Mutangadura also serves as a consultant at the Institute for Security Studies within the Africa in the World (AiW) project and Training for Peace (TfP) programme in Pretoria, South Africa. Her work at ISS involves researching peace and human security developments, political trends, and challenges in sub-Saharan Africa, focusing on security sector reform, conflict prevention, post-conflict reconstruction and development, governance, multilateralism, and foreign policy. Dr Mutangadura previously worked at the Centre for the Advancement of Non-Racialism and Democracy (CANRAD) where she led advocacy campaigns on social cohesion, social justice, non-racialism, and democracy.
She holds a Doctorate in Conflict Management from Nelson Mandela University where she specialized in the role of intergovernmental organizations in promoting citizen participation in election violence prevention processes in Africa. She is Zimbabwean and based in Pretoria, South Africa.