2020•10•16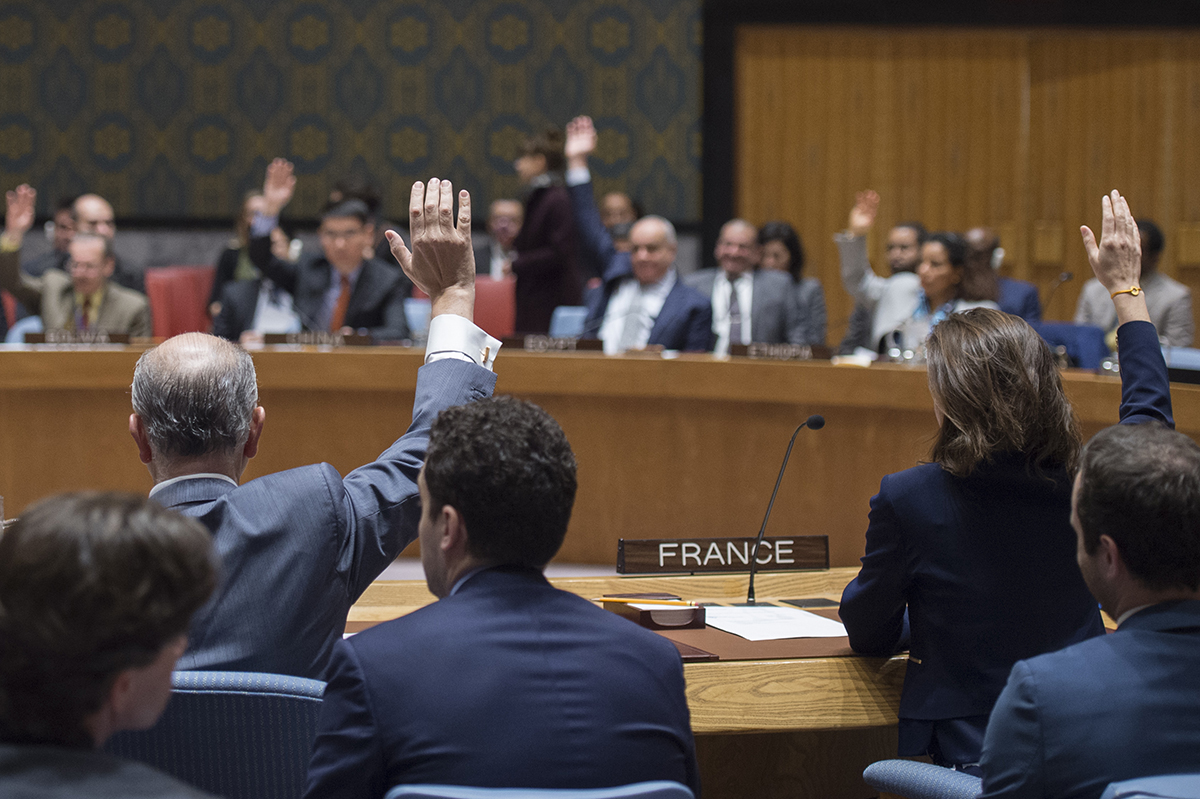 UN Photo/Eskinder Debebe
Cristal Downing reflects on negotiations on a Women, Peace and Security resolution in the Security Council marking the 20th anniversary of Resolution 1325 and expresses the need for the Security Council to stand strong on women's rights.
---
While this month marks the 20th anniversary of United Nations Security Council Resolution 1325 on Women, Peace, and Security (WPS), a new WPS resolution has now been put to the Council for negotiation. This re-opening of agreed standards risks weakening the framework on women's rights in conflict, with potentially grave repercussions for women in conflict situations. Council members should ensure that progress made on WPS is not drawn back.
Until 2015, there was broad consensus on WPS resolutions among Council members. Each of these texts made a clear contribution to the four WPS pillars of protection, participation, prevention of gender-based violence, and relief in conflict. Peace operations were mandated to address women's protection, to support their participation in local peacebuilding efforts, and to facilitate their roles as candidates and voters in elections. Increasing support was provided and sanctions encouraged for conflict-related sexual violence, and the UN gained a mandate to advocate for survivors' rights and support services. Women in conflicts around the world looked to the Security Council to defend their rights and enforce these measures.
But more recently, this progress has been put in jeopardy, as attempts to expand the agenda have re-opened divisive discussions and undermined progress that was previously made. Last year, Resolution 2467 – negotiated amid an outcry that renegotiation could put the WPS framework at risk – included concessions such as the removal of language on reproductive health at the behest of the US, and the dampening down of language on international justice, LGBTI populations, and sanctions for gender-based crimes carried out by terrorist groups. Even so, two members of the Permanent Five on the Council, Russia and China, abstained from voting. In October 2019, South Africa tabled a resolution on the need to renew commitments to the WPS agenda. This time, Russia and China's broader geographic equities led them to vote in favour. While these resolutions added language on the "survivor-centred approach" to sexual violence and on the protection of civil society respectively, they were overshadowed by the writing on the wall – the WPS agenda had become a battleground where alliances between Council members are solidified or shattered. Analysts expressed concern over what the Council divisions exposed in 2019 would mean for the future of WPS.
By opening the WPS framework for renegotiation once again, there are risks that these divisions in the Council could roll back progress. In order to prevent backsliding, Council members who have advanced the WPS agenda should consider acting as soon as possible to solidify a common negotiating position that reinforces all previous WPS resolutions and maintains the balance between all four pillars of the WPS agenda, rather than elevating the profile of only one or two. The bigger the bloc of Council members, the weightier their positions and the more constructive to the negotiations.
Furthermore, Council members should base their positions on WPS policy and principles and not on geographic, economic, or other factors that influence relationships with other Council members. Women in conflict look to the Council to prevent backtracking on their rights, and to ensure that they are given an opportunity to use their voices in peace processes. Council members have a responsibility to populations in conflict – and indeed, to their own constituents – to use the UN platform to promote and protect women's rights.
Another risk is the race to the lowest common denominator. Council members should avoid falling into the trap of thinking that a weak text is better than no text at all. There are multiple options available to Council members in order to both mark the 20th anniversary of 1325 and pave the way for the next 20 years of progress and implementation. If needs must, a principled abstention or 'no' vote would show commitment to maintaining the foundation provided by the current WPS framework. The threat of such a vote during negotiations could be a decisive tactic in preventing this foundation from crumbling. And if there are no new standards to set, a resolution may not be the best type of text at all – Council members could decide that a presidential or press statement would mark the anniversary in a more effective way.
The death of Ruth Bader Ginsburg last month has refocused the spotlight on progress made to uphold women's rights during her lifetime at the national level. As her work positively impacted women's representation in politics and exercise of basic rights, so too was progress made in the international arena, with the Security Council leading the way by protecting and promoting the rights of women in conflict. But re-opening the WPS agenda for negotiation puts these rights at risk. As part of the body responsible for upholding the rights of all people in conflict, Council members' reputation, credibility, and ability to do good in the world could be at risk too. To quote a great woman: "Fight for the things that you care about. But do it in a way that will lead others to join you."