2016•11•02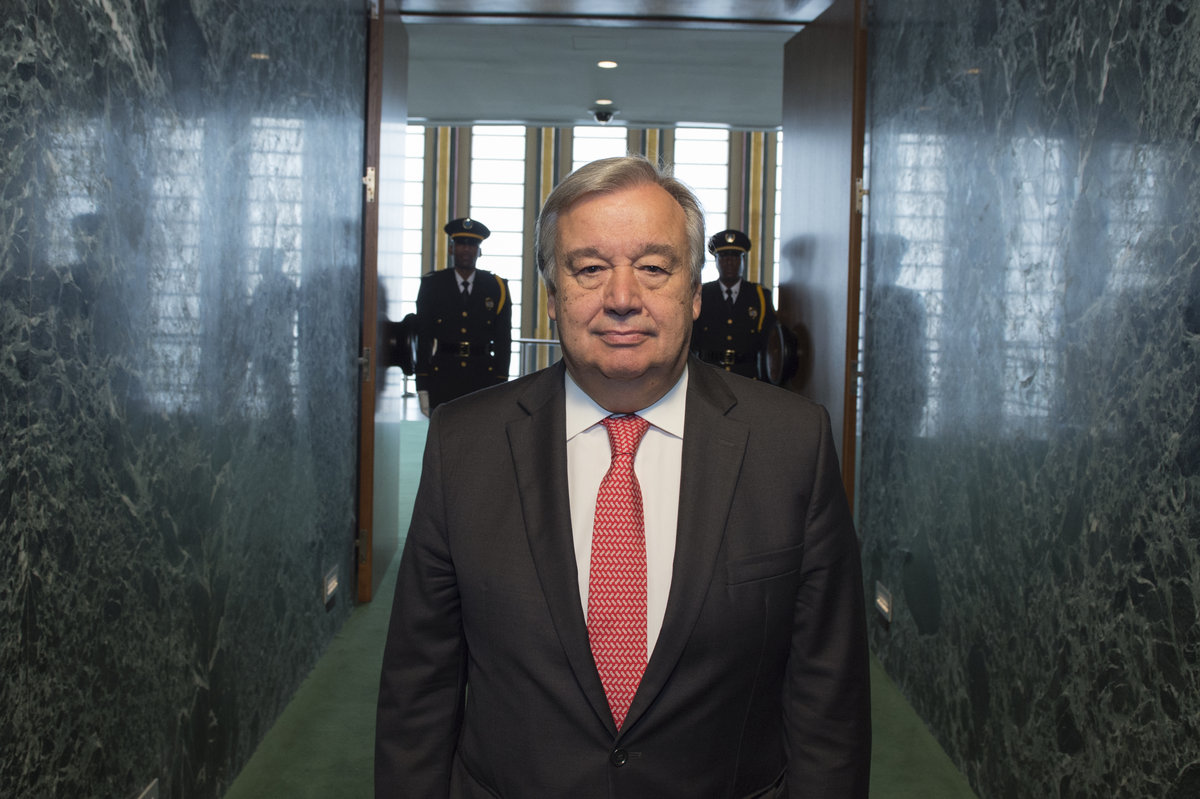 Photo by UN Photo/Eskinder Debebe
Rahul Chandran and Sebastian von Einsiedel outline issues with the UN Human Resources system and what the new Secretary-General could prioritize.
---
UN Secretary-General-designate Antonio Guterres will face a number of global challenges when he takes his oath of office on 1 January. Conflicts in Syria and South Sudan, the ethical and legal challenge of cholera in Haiti, climate change, and more. To deliver on these challenges, he will need a motivated, skilled and flexible workforce. He has recognized this challenge – his own vision statement called for making the "UN less bureaucratic, and more efficient, productive and field-oriented." But this is not easy.
He faces three key issues:
The wrong set of rules: The Secretariat's administrative regulations were originally designed for career civil servants who worked in fixed locations where much of what they did consisted of conference support for regular meetings among Member States. Having never been fundamentally overhauled, they remain particularly inadequate to regulate the staffing of today's UN's peace operations, where 50% of UN staff are deployed. Contemporary UN field operations need to continually adapt to sometimes rapidly changing circumstances on the ground, and as such each require their own specialized mix of skills and experience. It has proven impossible, again and again, to design a recruitment system that can both satisfy the process requirements for UN headquarters recruitment, while also supporting large, fast-moving field operations. Strong Member State support for Special Administrative Measures – a set of rules that delegates greater authority to the Secretary-General and field staff to implement their mandates – is a start. But the challenges of using a system built for the opposite purpose will endure.
Budgeting at the level of individual posts: UN system entities constitute the only institutions – international or otherwise – in which the governing body manages personnel at the level of individual posts. As a result, a Special Representative of the Secretary-General can negotiate a peace treaty, but is not empowered to decide if a sub-regional civil affairs officer should be a P-3 or a P-2.
Given that staff costs account for 80% of the UN budget, Member States' desire for control over their money is justified. We support accountability and transparency. But exercising scrutiny over individual posts does not translate into better oversight. To the contrary, by failing to give the Secretariat the basic managerial leeway needed to cope with a fast-moving reality, it undermines Member States' ability to hold the Secretariat accountable for implementing mandates. Too much expensive staff and delegate time is spent discussing pay-grades, not whether the resource envelope has been effectively used to achieve its goals.
The UN is strongest when its Member States are engaged in its work. Accountability and oversight form a fundamental mechanism for such engagement, and we would welcome greater scrutiny built on intellectually rigorous evaluations of programme performance. But the current system must change.
Insufficient attention to careers, staff development, and recruitment: The UN suffers from a crisis of staff morale. This is most acute for staff at the mid-level P-3 to P-5 grades. Many staff who enter the organization enthusiastically in their late twenties or early thirties end up disillusioned after a decade or so, and begin to explore alternative career paths. This is due to the UN's failure to offer a competitive working environment. Unlike well-functioning foreign ministries, where a human resources department manages learning, skills development, and career progress, UN staff are forced to develop these things for themselves. The UN remains overly obsessed with position in the hierarchy as the determinant for new roles. Staff often languish in the same headquarters or field post for years, unable to move or grow. As a result, more and more staff retire at the P-3 and P-4 levels, with the average age of a P-3 being 43.2 years old.
A number of factors contribute to this sad state of affairs. They include:
Lack of resources: The UN has to do HR management on the cheap, spending less than 1% of staff costs on learning and development. As a result, HR management lacks proper tools and assessment methods for recruitment, often leading to poor outcomes.
Archaic recruitment processes: Recruiters and applicants alike are frustrated by recruitment processes that on average take 273 days from the issuance of an advertisement to staff selection.
Insufficient managerial latitude: Managers have little scope to reward high-performing staff or to remove deadwood. This, coupled with the slow pace of recruitment, creates a profound sense of risk aversion, wherein managers are understandably reluctant to embrace diversity and mobility.
Internal justice system: The UN's dysfunctional internal justice system reinforces a widespread aversion among managers to provide honest feedback to poorly performing staff as this results all too often in years of litigation.
While there are no easy fixes to these problems, Secretary-General Guterres will need to prioritize them early on, starting with a frank admission that the current system is broken, a public acknowledgment of staff frustration, and an honest recognition of Member States' legitimate interests in oversight. He will need to adopt a systemic approach (one that tackles shortcomings in accountability mechanisms and the internal justice system), carefully study the longer-term skill needs of the organization, and increase resources for HR management. All of this must be coupled with a compelling vision for a modern organization – and the commitment of the Secretary-General to ensure that reforms produce concrete improvements.
A specific first step could involve the establishment of a Working Group of experts, composed of former senior UN managers and human resources experts from inside and outside the UN, as well as Member States, to develop a set of concrete recommendations. The inclusion of Member States is critical; they must own this process and the results from the start.
In parallel, the Secretary-General could consider creating an independent task force to overhaul the administrative instructions governing recruitment. Many of the Secretariat's problems are self-inflicted. Every attempt to reform management seems to result in an increase in administrative burden, rather than an increase in performance or client service. A small group of competent lawyers, for example, could translate the UN's byzantine regulations into clear and simple language, removing unnecessary ambiguity and regulatory burden. Moreover, doing so would ensure greater compliance with Member States' wishes, rather than less.
The bottom line is simple: without the staff to deliver, the UN stands no chance of meeting the growing and complex needs of peacekeeping, peacebuilding, or the Sustainable Development Goals. It will not achieve any of these aspirations alone, but the UN needs to be able to play its role competently – and that requires good people.