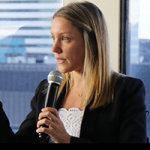 E-MAIL:

huve@unu.edu
Research Interests
International law
Law and development
Sanctions
Education
Master's degree in Public International Law & Law of International Organizations - The Sorbonne
Master of Laws in International Legal Studies - Georgetown University
Biographical Statement
Sophie Huvé is the Lake Chad Basin Case Study Manager for the Managing Exits from Armed Conflict (MEAC) initiative at United Nations University Centre for Policy Research, having previously been a Legal Expert on the Sanctions and International Humanitarian Law project.
Ms Huvé joins from the International Committee of the Red Cross in Geneva, where she worked as a legal associate and adviser on international humanitarian law, notably on the impact of sanctions regimes and counterterrorism measures on humanitarian action. She was previously a fellow with the Georgetown Institute for Women, Peace and Security, where she worked and published a report on the use of UN sanctions to prevent conflict-related sexual violence. She interned with the UN's Sanctions Branch and has also published a book on Russia's foreign policy at the UN.
Ms Huvé holds a Master's degree in Public International Law & Law of International Organizations from the Sorbonne and a Master of Laws in International Legal Studies from Georgetown University.