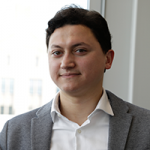 E-MAIL:

alaa@unu.edu

NATIONALITY:

American
Research Interests
Countering Violent Extremism
Counterterrorism and Countering Violent Extremism
Data science
Education
Master's degree in Public Policy - University of Chicago
Biographical Statement
Sherif Mabrouk is a Research Associate at the United Nations University Center for Policy Research, working on the Managing Exits from Armed Conflict initiative as a quantitative researcher and analyst. Previously, he was a Research Assistant at the Pearson Institute for the Study and Resolution of Global Conflicts in the Harris School of Public Policy at the University of Chicago.
During his time at the University of Chicago, Mr Mabrouk held several different research assistantships, working with the University of Chicago's Behavioral Insights and Parenting Lab and for the World Bank on a gender-balanced corporate procurement project, writing and designing the research methodology. During the summer of 2019, he interned at the University of Chicago's Crime Lab, providing technical assistance to the policy team at the Cook County Juvenile Probation Center.
Prior to his time at the University of Chicago, he worked at the Egyptian Center for Public Opinion Research, coordinating the International Development and Research Center's anti-corruption project. As a researcher, he worked on projects for organizations such as UN Women, the International Development Research Center, and the National Council for Women. He also worked as an Insights Analyst with Nielsen, working alongside the advanced analytical team, in addition to leading Nielsen's environmental initiatives in Egypt.
Mr Mabrouk holds a Master's degree in Public Policy from the University of Chicago, where he focused on utilizing policy analysis and data analytics tools in conflict research.