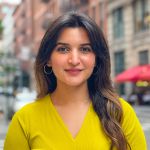 E-MAIL:

ali@unu.edu
Research Interests
Counterterrorism and Countering Violent Extremism
Monitoring and evaluation (M&E)
Education
Master of International Affairs - Columbia University
Master of Social Science - University of Chicago
Bachelor of Science with Honors - Lahore University of Management Sciences
Biographical Statement
Saniya Ali is a Research Associate at United Nations University Centre for Policy Research, working on the Managing Exits from Armed Conflict initiative.
Prior to joining the Centre, Ms Ali conducted mixed methods research for organizations including UNICEF, New York City Mayor's Office, American Institutes for Research and National Opinion Research Center (NORC). Her work has focused on monitoring and evaluating policies to inform better outcomes through research. Thematically diverse, she has worked on topics ranging from protection from sexual assault to urban policy.
Ms Ali holds a Master's degree in International Affairs from Columbia University, a Master's in Social Science from the University of Chicago, and a Bachelor of Science with Honors from Lahore University of Management Sciences, Pakistan. She is fluent in Urdu and Punjabi.