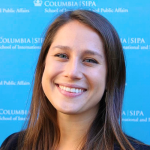 E-MAIL:

lherbette@unu.edu
Research Interests
Conflict Prevention
Conflict resolution
International development
Peacebuilding
Security and Conflict Issues
Education
Master of Public Administration – Columbia University
Bachelor of Arts – Boston College
Biographical Statement
Margaux L'Herbette is a Global Governance Fellow for the High-Level Advisory Board on Effective Multilateralism at United Nations University Centre for Policy Research.
Ms L'Herbette's background is in conflict resolution, international development and peacekeeping. She began her career in international development when serving in the Peace Corps in Ecuador. She then spent several years as a project manager supporting USAID-funded development programs focused on criminal justice reform, mitigating the impacts of violence extremism, citizen security, and establishing alternative livelihoods in post-conflict contexts. She has also worked for the Civil Affairs Team at the United Nations' Department of Peace Operations leading the team's rollout of the Local Conflict Analysis and Planning Tool, which is a mechanism to improve integrated approaches to local conflicts in peacekeeping settings.
Ms L'Herbette holds a Master's degree in Public Administration concentrating in International Security Policy and specializing in International Conflict Resolution from Columbia University and a Bachelor of Arts from Boston College.