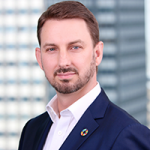 E-MAIL:

cockayne@unu.edu

NATIONALITY:

Australian
Research Interests
Drug Policy
Global governance
Human trafficking
International Criminal Justice
Modern Slavery
Organized Crime
Private security
Strategy of non-state armed groups
United Nations system
Education
Doctorate in War Studies - King's College London
Master of Laws - New York University
Bachelor of Arts - University of Sydney
Bachelor of Laws - University of Sydney
Appointments
(2019) Advisory Board of the Journal of Modern Slavery
(2014-2016) Director, then Vice-Chair International Legal Foundation
(2013-present) Member, Global Initiative on Transnational Organized Crime
(2013) Civil society member, Multi-stakeholder Group establishing the International Code of Conduct for Private Security Providers
(2013) Adjunct Lecturer, Columbia University, New York City, USA
(2006-2007) Chair, Editorial Committee, Journal of International Criminal Justice, New York City, USA
(2005-2008) Member, Editorial Committee, Journal of International Humanitarian Legal Studies, Boston, USA
Biographical Statement
Professor James Cockayne is a consulting non-resident Senior Fellow to United Nations University Centre for Policy Research (CPR)'s Modern Slavery Programme and previously served as Head of Secretariat for the Liechtenstein Initiative for Finance Against Slavery and Trafficking (FAST).
Professor Cockayne holds a concurrent appointment as Professor of Global Politics and Anti-Slavery at the University of Nottingham. He was Director of UNU-CPR from July 2018 to June 2020, and head of UNU's Office in New York for five years prior to that. During that time his work with UNU-CPR included the formulation of the Code of Ethics that now binds the President of the UN General Assembly; advice to senior UN leaders on digital privacy, internet governance and cybserecurity; rethinking global drugs policy; and work with the UN Security Council on due process in targeted sanctions. He is a noted authority on organized crime and global governance.
Professor Cockayne previously served as Senior Fellow at the International Peace Institute; Co-Director of the Centre for Global Counter-Terrorism Cooperation; Principal Legal Officer in the Australian Attorney-General's Department; and worked in war crimes trials and counter-terrorism capacity-building in Africa.
Professor Cockayne is a member of the Advisory Board of the Journal of Modern Slavery, and was previously Chair of the Editorial Committee of the Journal of International Criminal Justice.
He is the author of Hidden Power: The Strategic Logic of Organized Crime (Oxford University Press, 2016). James was awarded a PhD in War Studies from King's College London, an LLM at New York University and the University Medal in Government and Public Administration during LLB and BA degrees at the University of Sydney.