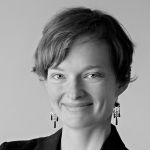 Research Interests
cybersecurity and data policy
Deliberative democracy
Gender
Predictive analytics and data
Education
Doctorate of Philosophy (PhD), University of Geneva
Master's degree, University of Toronto
Master's of Science, School of Oriental and African Studies, University of London
Bachelor's degree, McGill University
Biographical Statement
Eleonore Fournier-Tombs is the Head of Anticipatory Action and Innovation at UNU Centre for Policy Research. Prior to joining, she was a senior researcher at UNU in Macau, China, with a focus on data and technologies for sustainable development. During her career, she has worked as a data scientist throughout the United Nations system and conducted research at the intersection of technology and gender, migration, democracy, and health.
In 2012, she was awarded the UN21 Award by Secretary General Ban Ki Moon for her work at UN-OICT on the Rio+20 Conference. She then worked for the Human Development Report Office from 2012 to 2015, where she managed human development data and online communications. Between 2015 and 2018, she obtained her PhD from the University of Geneva, during which she developed a machine learning method to measure the quality of political deliberations online. She was then awarded a post-doctoral fellowship at McGill University, where she applied this tool to analyse parliamentary debates in the Canadian territories of Nunavut, Yukon, and the Northwest Territories.
From 2018 to 2020, Eleonore worked as a data scientist at the Centre for Humanitarian Data, OCHA, where she contributed notably to modelling Covid-19 in countries experiencing humanitarian crises. She continued this work in 2020 and 2021 at the World Bank, where she also participated in climate-related policy research in Afghanistan, Morocco, and Jamaica.
In 2021, Eleonore founded a research lab in the research chair on Accountable AI in a Global Context at the University of Ottawa Faculty of Law, where she was one of the recipients of an IDRC grant on AI for Covid-19 in Senegal and in Mali. Eleonore also lectures regularly at the Université de Montréal in new technologies for international cooperation and at McGill University in information security management and is a member of the editorial board for Data & Policy journal.