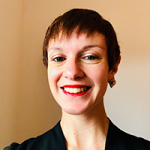 NATIONALITY:

German
Research Interests
Climate & disaster risk management
Climate Change and Environmentally Induced Migration
Climate Change and Natural Resources Management
Climate-security
Conflict Prevention
Conflict resolution
Gender
Migrants and social inclusion
Education
Doctorate in International Studies - The Graduate Institute of International and Development Studies, Geneva
Master of Science in Political Science – The Graduate Institute of International and Development Studies, Geneva
Biographical Statement
Dr Beatrice Mosello is a Senior Fellow (Non-Resident) at United Nations University Centre for Policy Research and a Senior Advisor at adelphi where she specializes in climate diplomacy and natural resource governance.
Dr Mosello's work to date has involved researching and developing climate- and conflict-sensitive approaches to development and humanitarian programming in fragile contexts across Central Asia, the Horn of Africa, the Sahel, sub-Saharan Africa, and Latin America. She has also developed, facilitated and implemented training events for various target groups, including senior government officials, company executives, researchers and civil society.
Before joining adelphi, Dr Mosello was a Senior Associate at Critical Resource, where she advised mining and energy companies and investors on political, stakeholder and sustainability risks. Prior to this, she was a research fellow at the Overseas Development Institute (ODI) where she was responsible for research and advisory work in the fields of water and natural resource governance for sustainable and climate-resilient development.
Dr Mosello completed a Doctorate in International Studies at the Graduate Institute of International Studies in Geneva, where she was awarded a distinction for her thesis on climate change adaptation in the water sector in Central Asia.