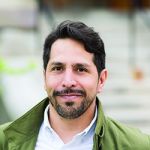 E-MAIL:

casas@unu.edu
Research Interests
Conflict Prevention
Conflict resolution
Biographical Statement
Andrés Casas is a Senior Fellow (Non-Resident) at United Nations University Centre for Policy Research. A behavioural scientist from the University of Pennsylvania, he specializing in transforming psycho sociocultural barriers to peace, security and prosocial development. His work in Latin America, Africa, Middle East, and the United States has allowed him to develop behavioural change programmes using peace science, social norms programming, and communications for social and behavioural change (SBCC). In his work, he uses mixed-methods to implement media and art-based interventions aimed to target cognitive path-dependence.
Mr Casas is currently the Brain & Behavioral Change Advisor at the United Nations Department of Political and Peacebuilding Affairs, the Behavioral Change and Mobility advisor to the Mayor of Bogotá, a Latin American Expert of the Center for Social Norms and Behavioral Dynamics at the University of Pennsylvania, and the Principal Investigator for the World Values Survey in Colombia since 2010.
He has published several books, policy reports, and articles related to the application of science to the design of public policies in Journals such as Peace Economics, Peace Science and Public Policy, Peace Building and Development, and The Behavioral Scientist.